Daniele Luciano Moskal - The Pen of a Ready Writer
Filmed entirely in Luton Town by the award winning 'Tandem TV' Christian company from Hemel Hempstead, Herts, England in 2001. This is the unique and remarkable life-changing testimony of 'Badger' of the 'BOLTS-Crew' Luton Town Football Club's first active hooligan firm. An ex-football hooligan; gang leader; martial arts instructor; professional fashion model; award-winning photo-journalist; author and publisher; songwriter; night-club security supervisor; hairdresser, and ex-Paratrooper who after 25 years of serious violence and crime following his beloved Luton Town Football Club all over the UK, and fighting rival hooligan firms in the 70's and 80's, is now affectionately known as Evangelist,
Daniele Luciano Moskal, (The Penofareadywriter).
Powered by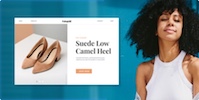 Create your own unique website with customizable templates.